About MJM
MJM was started in 1993 by Mark Jones, originally a tape based 8 track (running cubase in sync with Akai samplers) slowly MJM became busy with mainly local bands. In 1996 went to 16 track doing albums for THE RUBBISH, WALTER MITTY'S HEAD, PURPLE PEOPLE and tracks for POCKET CENTRAL and JOE HUBBARD, also around this time I worked on the number 1 album 'IT'S GREAT WHEN YOU'RE STRAIGHT YEAH!' by BLACK GRAPE. After this worked on the POOKA album ' Fools give birth to angels' and also 'morning song' for MAUPA amongst others.
Around 2001 went digital, got the Pro Tools mix 24 plus TDM system. Did the album 'SOLID NOURISHMENT' by BIG DOG (had the legendary GENO WASHINGTON in MJM.) Wrote and recorded tracks with MARCELLA DETROIT, worked on various projects before working as Pro Tools engineer for PETER GABRIEL during his 'GROWING UP' tour.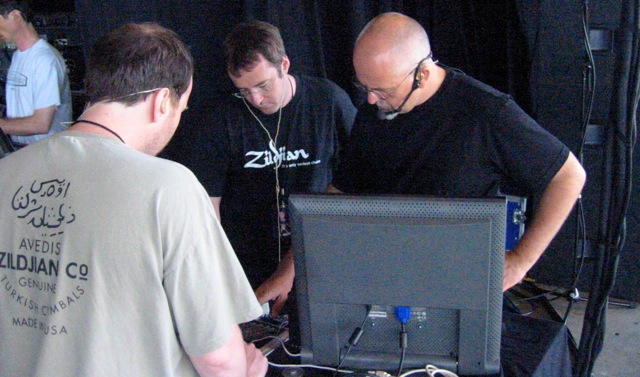 This effectively kept me away for around 2 years, but during 2003 returned to re establish MJM. Did the album 'THE MINOR HIGHS AND THE MAJOR LOWS' by MAUPA as well as tracks for many other bands and artistes including; THE SCRIBES, YUSUF ISLAM (CAT STEVENS), GUY PRATT, LIFE,  REVERB, CRUSHED LIKE FRUIT, TERRY SWAYSLAND, VIRTUAL STRANGERS, DEAR ESKIIMO(THE TING TINGS), INDIA MILL, THE ZOE ELLIS BAND, V7, A NEW BREED OF MONKEY, DEAD END KID, SLIM, FADED SOUL, THE RYTHYM METHOD, LIEUTENANT PIGEON, TURN THE SKY, ICARUS, AUDIO PIMP, a new album from 'POCKET CENTRAL,'  INTERNATIONAL 1, SELACIOUS, THE GEKKO, CIRCA 84, FREE HAVEN, FIVE PRONGED ATTACK, protools work for THE BLUE NILE,  THE EXORSISTERS, KING CASANOVA, CARFAX, AVALON WAY, BASHPHELT, DEXTEROUS, PETER ALDRIDGE, THE TORRENTS, THE GANGWAYS, WAYNE KAFKA, DOWN IN PARIS, THE YELLOW CHANTY'S, MORNING CALL, SMALL AMP, SHAKEYS BROTHER, pre production for GOLDFRAPP, THE HOLLIES, SPRUNGLOADED, THE ELECTRIC CIRCUS BAND, THE SNOWBYRDS, NEW YORK TOURISTS, THE ANDY SCHOFIELD BAND, INTO THE BLACK, KIRK MCELHINNEY, TROVATORI, PAUL FARR, JESSE DUNCAN, THE SHADE, MORAL PANIC, PETER BURKE, JOE LOFTHOUSE, HUW JACOB, THE SPIRIT OF PINK FLOYD, JESS SWAYSLAND, ROYAL T, IMAGINED VILLAGE, MAELOR HUGHES, SUBMARINER, MEVMORTALITY, LONEJO MUSIC….